The Time is Now to make Europe Poverty Free! #2019PEP
The 18th European Meeting of People Experiencing Poverty is organised by the European Anti-Poverty Network (EAPN) with the support of the EU Commission and the EAPN Fund, and with the participation of the Finnish Presidency of the Council of the European Union
The programme of the Meeting is available on the programme page.
The National Networks Preparation page is filled with news from different countries of how preparations for this year's Meeting are going! You can also follow us on Facebook EAPN – European Anti-Poverty Network , Instagram @EAPNEurope and Twitter @EAPNEurope!

Objectives of the 2019 European meeting
This years' Meeting of People experiencing poverty was centered on five important discussion topics:
Access to housing,
Participation of people experiencing poverty in the lives of their communities and societies,
Access to adequate minimum income,
Access to good quality health care services,
and access to decent jobs and equal employment opportunities for different categories.
Over a hundred people experiencing poverty from 30 European countries prepared around these topics and were in Brussels on 18-19 November to share their knowledge and experience with each other, and with EU decision-makers.
The 2019 European Meeting of People Experiencing Poverty took place at the beginning of a new term of the European Commission and Parliament. We used this opportunity to raise awareness about the history and the importance of the PeP meetings, which have been organized since 2000. This meeting, as with all the past meetings, allowed people with direct experience of poverty to discuss their political priorities, first at the national level and then during the European meeting. The goal of this meeting was to shape the agenda of the new European institutions to include the common priorities of those experiencing poverty throughout Europe.
Our opening plenary had testimonies from members of EAPN Greece, EAPN Finland, and EAPN Ireland. We had responses from Dragos Pilsaru, a member of the European Parliament in the Renew Europe group, and Katarina Ivankovic Knezevic, the Director for Social Affairs in the European Commission DG Employment, Social Affairs, and Inclusion.
The delegations and attendees then split off into World Cafe tables, where they discussed issues such as homelessness, access to quality health services, access to equal employment opportunities, and many more. Delegates got the opportunity to share their stories and brainstorm solutions to these issues nationally and on a European level.
Later that afternoon, five parallel workshops were held on each of the five topics chosen for this year's PeP meeting. In these workshops, delegates took what had been discussed at the World Cafe tables and formulated key priorities and recommendations to present to decision-makers tomorrow morning.
Tuesday morning we had our Visibility Action, where we brought the messages from the meeting to the streets. We handed out postcards with messages from people experiencing poverty and sang about how the Time is Now to End Poverty in Europe!
Later that morning, the key priorities identified yesterday were presented to decision-makers on issues like participation of people experiencing poverty in their communities, access to quality healthcare, access to equal employment opportunities and quality work, and an adequate minimum income for all people in Europe. We then had the opportunity to have sessions with decision makers on each priority, where people experiencing poverty could tell their stories and present the priorities directly to their representatives and policymakers. We were fortunate to have with us Nicolas Schmit, a current member of the European Parliament and the Commissioner-designate for Employment and Social Affairs, Salia Ruuth, the State Secretary in the Ministry of Social Affairs and Health in Finland, and Pierfrancesco Majorino, a member of the European Parliament in the Progressive Alliance of Socialists and Democrats group.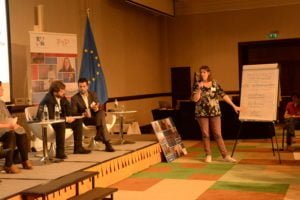 Practical info:
9:30 – 17:30 (18 Nov) & 9:00 – 14:30 (19 Nov), Crowne Plaza, Rue Gineste 3, 1210 Brussels
For national coordinators: