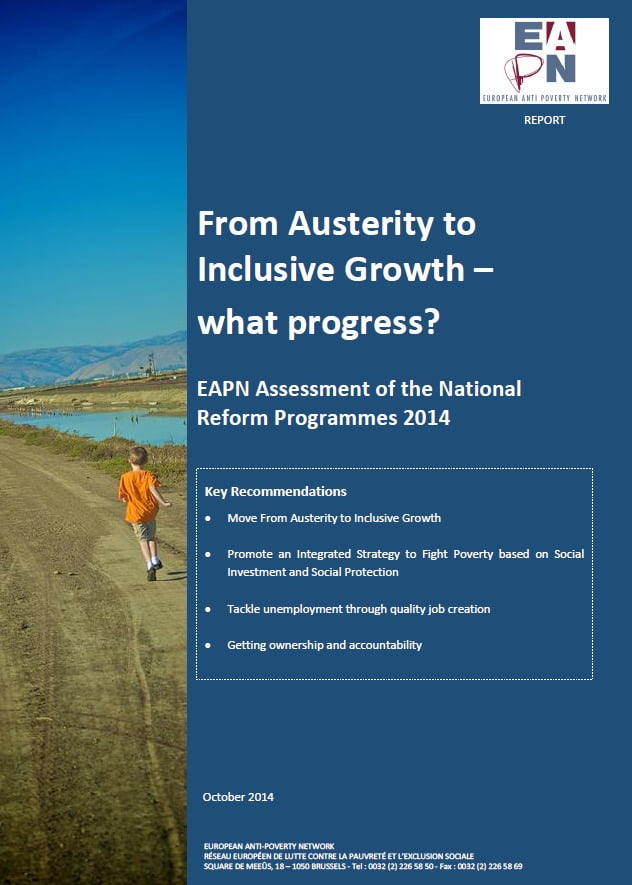 8/10/2014 – This year marks the last round of National Reform Programmes (NRPs) before the Mid-Term Review of the Europe 2020 strategy in 2015. Whilst some signs of recovery have been seen in some countries, Europe's social crisis continues to worsen, as a result of rising unemployment and continuing austerity policies.
In this context, EAPN members have continued to try to engage in the Semester and Europe 2020 process at national and EU level, with the hope that increased engagement could help to bring real progress on effective policies to meet the poverty target. EAPN's report From Austerity to Inclusive Growth – what progress? builds on the 2013 NRP Assessment: Widening the Gap and EAPN member's assessment and proposals for Country-specific Recommendations for 2014.
The report aims to provide a synthesis of EAPN National Networks' assessment of the 2014 NRPs, on how far the NRPs are delivering on the social targets (particularly the poverty target, but also to the employment and education targets) and on the effectiveness of stakeholders' engagement with the governance process. It will draw together the quantitative and qualitative conclusions from the questionnaire answers received from members. While 13 national Networks took part in this Survey in 2013, in 2014 the responses increased to 20.
The style of the report is non-academic, and aims to provide a direct picture of grass-root organisations assessment and concerns, rather than a formal scientific analysis of the NRPs.
See also our news article with the results of EAPN's 2014 Annual Conference on the Mid-Term Review moment, at which this report was launched, and also the press release sent on the day, 3 October 2014.
Open EAPN's report