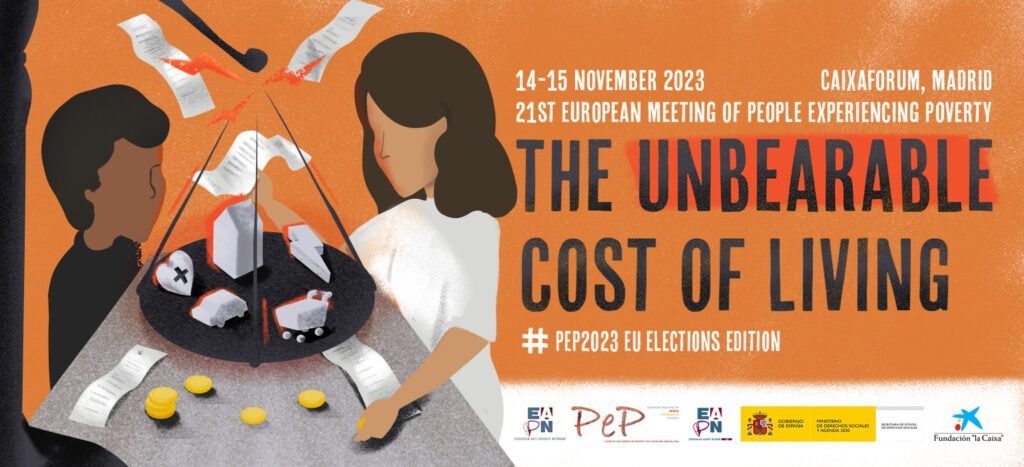 We are very happy to announce the 21st edition of the European Meeting of People Experiencing Poverty (PEP) "The Unbearable Cost of Living | EU Elections Edition", in CaixaForum Madrid, Spain. 
The meeting – organised by the European Anti-Poverty Network (EAPN Europe) and EAPN Spain, with financial support from DG Employment, the Spanish Ministry of Social Rights and Agenda 2030 and La Caixa Foundation – will take place on 14 and 15 November.
Ahead of the EU Elections in 2024, EAPN Europe and its network are sounding the alarm because very little has changed. Around 100 people living in poverty from about 30 European countries will gather in Madrid, Spain, to further discuss how the current crisis in the cost of living is affecting their lives and the solutions they see to address it. 
#PEP2023 will explore challenges and solutions linked to the unbearably high cost of living due to the multiple crises we face. We are currently living in an unbearable cost of living crisis. The past months have been marked by rising inflation throughout Europe. This means that the prices of basic goods such as food, electricity, mobility and housing have risen exponentially. 
The European Meeting of People Experiencing Poverty is an opportunity to make their voices heard, to connect with politicians and decision-makers, inform policy-making processes at the European level about the impact of the cost of living crisis on people's lives and to strengthen networks between entities and people throughout Europe. 
More information and programme
 CaixaForum Madrid, P.º del Prado, 36. (Spain)

 14 – 15 November 2023
 We will have interpretation in English, Spanish and French.
#PEP2023 EU Elections Edition
For further information on the meeting, contact Sheila Góis Habib (Policy Officer), sheila.goishabib@eapn.eu, or on registration/practicalities, contact Sigrid Dahmen (Office Manager), sigrid.dahmen@eapn.eu.